Great Snipe
2nd October 2000
A good period of SE winds preceded the 2nd of October 2000. A Treecreeper was at Saltness 26/9 and a Dusky Warbler found by BM at Sandwick 28/9 was mist netted the next day. A Scottish birder, Graeme Buchanan found a Raddes Warbler at Skibberhoull on the morning of 2/10 and I was present for the successful mist netting by BM.
In the afternoon myself and Michael Williamson decided to try our luck at Isbister, a place which tends to be somewhat underwhelming 99.9% of the time. We were yomping through a patch of reed grass at the back of the Toft houses when up went a Snipe. Something wasn't right. It was giving a strange croaking call; its flight seemed slower and more direct and it also appeared somewhat potbellied recalling Woodcock. Little plumage detail had been noted but already Great Snipe seemed likely. MW crept around behind where it had landed sending it up again. This time I got a brilliant view as it flew low past me pitching down on dry hillside with tussocky grass.
White bordered black mid-wing panel, dark streaked under wing lacking any pale bands, shorter bill and white outer-tail, Yes a Great Snipe!
BM and GB were summoned from different parts of the island and the bird was flushed twice more before it was lost heading back towards where we'd found it originally. Both observers having had previous experience of the species immediately agreed it was a Great Snipe a 2nd Whalsay record.
Long Tailed Tit
31st October 2000
At 9am on the 31st of October 2000 I came home from doing the school run to the news that Michael Williamson had seen a Long Tailed Tit outside his house at Gardentown. I arrived a few minutes later and predictably it had gone missing. After ten minutes of frantic searching I spotted what could only be a Long Tailed Tit flying low towards me with short bounding undulations and following the line of a dry stone wall. When it was about 30 metres from where I was standing it lobbed up over the wall and landed in a weedy patch below Whalsay School. It was facing directly away from me and after a few seconds it hopped out of sight.
Even though my views had been poor it could only be a Long Tailed Tit. The body was small and round and it had a very long and graduated tail. The back was black with reddish-brown scapulars, the secondaries and greater coverts were boldly tipped white. The tail was black with white outers from above. The under tail was only seen very briefly but seemed to show more white, forming droplet shapes on the outer tail feathers with the centre black. Interestingly the head and body was unmarked and strikingly pure white.
I then made the fateful decision to leave MW staking out the bird while I nipped into his house to call BM. Needless to say Michael had splendid views at close range but on my return it got up again, flew low over a wall and was never seen again.
Although it was submitted as being of the Northern race Caudatus, (a new race for Shetland) it was accepted only as Long Tailed Tit sp. Hardly surprising given the brief description. A first for Whalsay none the less.
White Tailed Eagle
9th June 2001
In early June 2001 a juvenile White Tailed Eagle was on Unst. Due to leg rings it had been identified as belonging to the Norwegian stock. I am often in Norway as we land mackerel there and I am very familiar with these birds, occasionally seeing a few at a time. I have however; never come across one over here and sadly the 9th of June 2001 was to prove no different......
On this day I was playing golf in some competition or other. As usual I had been crap and as usual I came home wondering why I bother. The phone rang and things got a lot worse. A neighbour, Alec Polson had seen the Unst Eagle low over his house (100 yards away from ours!) The last straw came when it was reported back on Unst later the same day. This means it had probably flown directly over my head twice while I was slashing golf balls around Skaw!! Hardly one of my favourite birding memories
Pallas`s Grasshopper Warbler
28th September 2003
Late September 2003 had been poor, constant westerly winds reducing migration to a trickle. On 26/9 a good look around produced Red Breasted Flycatcher, Yellow Browed Warbler and a Bluethroat with not a single common migrant to be found.
Overnight on 27th/28th the wind was back in the east and I got a call from BM. He'd caught a Pallas`s Grasshopper Warbler in the Skaw trap! I headed to Skaw and saw it in the hand before its release in the kale crop above the heligoland. It was to remain in that crop into October and could be viewed by lying prostrate and watching it running amongst the kale stalks. Predictably a few twitching morons felt compelled to wade through the kale causing a bit of friction with the yard owner. This was soon sorted out however and I think most people saw it reasonably well. (First for Whalsay)
Little Egret
5th -25th October 2003
Early October 2003 produced Buff Breasted Sandpiper and Olive Backed Pipit at Skaw. On the morning of the 5th of October I received a call from Mrs S Kay. "There's a white Egret in the Symbister meadow". She could see it from her kitchen window. Any Egret would be a Shetland tick for me so I hurriedly set off for Symbister. I was just in time, meeting it in flight. It landed briefly on the shore before heading off west. It was a Little Egret but I was vexed not to have had a better look at it. Almost two weeks later I found it back on the pool at Symbister and got excellent views from the road as it went around fishing quite unconcerned. It was apparently commuting between Whalsay and Shetland mainland and was last seen 25/10. (first for Whalsay)
Sardinian Warbler
30th May - 10th June 2004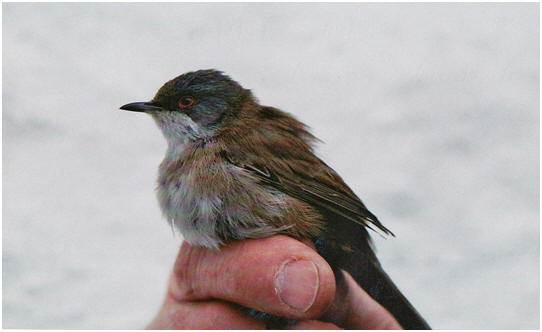 photo Jon Dunn
On 30/5/04 myself and JD were out birding after our first SE winds in three weeks. The Skaw plantation seemed promising with 3 Lesser Whitethroats and one or two other common warblers. Suddenly we flushed a very dark brown Sylvia type warbler with obvious white on the outer tail but little else could be seen as it flew directly away from us and into a bush. It was flushed again giving a repeat performance, going straight into cover without pausing to allow any sort of a view. It then disappeared completely leaving us thinking of female Sardinian Warbler but without better views it was set to be one that got away.
The next day proved the same, two flushes straight into deep cover then nothing. Frustration! Early afternoon on the 1st June saw the breakthrough; I entered the plantation quietly and noticed a movement low down in a clump of willows. Brown underparts, white throat and an obvious red eye-ring amongst other features. It WAS a female Sardinian a first for the island. Suddenly it became aware of my presence dropping to the ground and burying itself in the grass in the manner of a Locustella. BM was just back from holiday and came and put up two nets. JD also arrived from work and the bird was trapped about 7pm. It was present until 10th June but continued to skulk and give poor views.
BROWN SHRIKE
19th-24th September 2004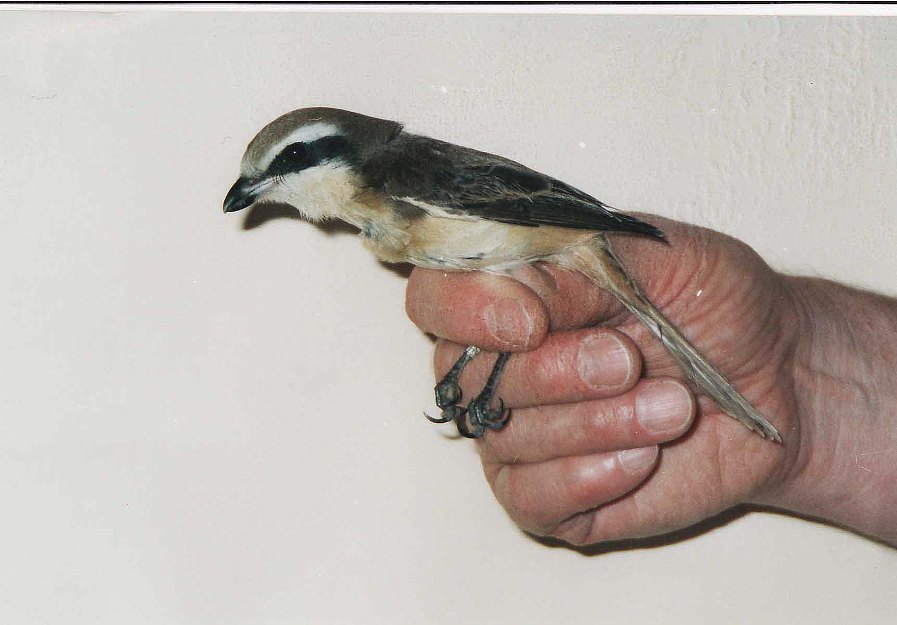 On the evening of 19/9/04 JD and I decided to have a few hours birding. After 24 hrs of strong SW winds the prospects looked bleak and my efforts earlier of 1 Garden Warbler and 1 Goldcrest seemed to back up this assumption. While Jon was finishing a few chores I decided to check around his neighbours house which has a good mix of fences, dry stone walls and rose bushes.
As I went through the lower yard a small brown Shrike flushed from the back of one of the walls. Flying straight away from me it seemed quite a rich shade of brown and lacking in any scalloping anywhere on its plumage. It landed for a second on a fence about 100 metres away turned its head towards me for a second then was off again out of sight. "That's not a Red Backed" I said out loud as I tried to make sense of what I'd just seen. JD was called and the chase was on.
After an hour without re-finding the bird the doubts had well and truly set in. Had I really seen a white Supercilium in those split seconds it had looked my way? In my infinite wisdom I decided I had just got carried away and was seeing things. It was South West there was no birds around, no it was going to be Red Backed. With the light starting to fade my wife Angela called with news of "a fat black bird skulking in a garden at Whitefield". Well what to do now? I had now gone into complete denial and was now sure it would turn out to be a Red Backed Shrike this new bird sounded interesting. "B******s! We'll go for the Rail/Moorhen".
On our arrival at the new sight the householder appeared with a carrier bag, the bird was knackered and he'd picked it up. Can you guess what it was? Yes a HEN, a long distance migrant from the other side of the Hamister valley! (Brian Marshall was highly amused at us leaving a Brown Shrike to twitch a hen.)
Next morning saw me back at Skaw and the Shrike appeared on a fence close to my initial sighting. There could be no mistake this time and it's impossible to convey the amount of excitement caused by a Brown Shrike (which was a fourth British record at the time) sitting 30 yards from my car. Frantic calls to BM and JD followed, both were at work but Jon set off for the ferry as he was heading away from Shetland that night and only had a few hours window to see the bird. He timed it well as on arrival back at Skaw the Shrike decided to fly into the Heligoland trap.
Brian ringed it and it was indeed a Brown Shrike of the nominate race "Cristatus" it was released back at Skaw and was last seen on 24/9. It remained elusive going missing for hours at a time but was successfully twitched by many.
GYRFALCON
11th FEBRUARY 2005
photos by Allister Irvine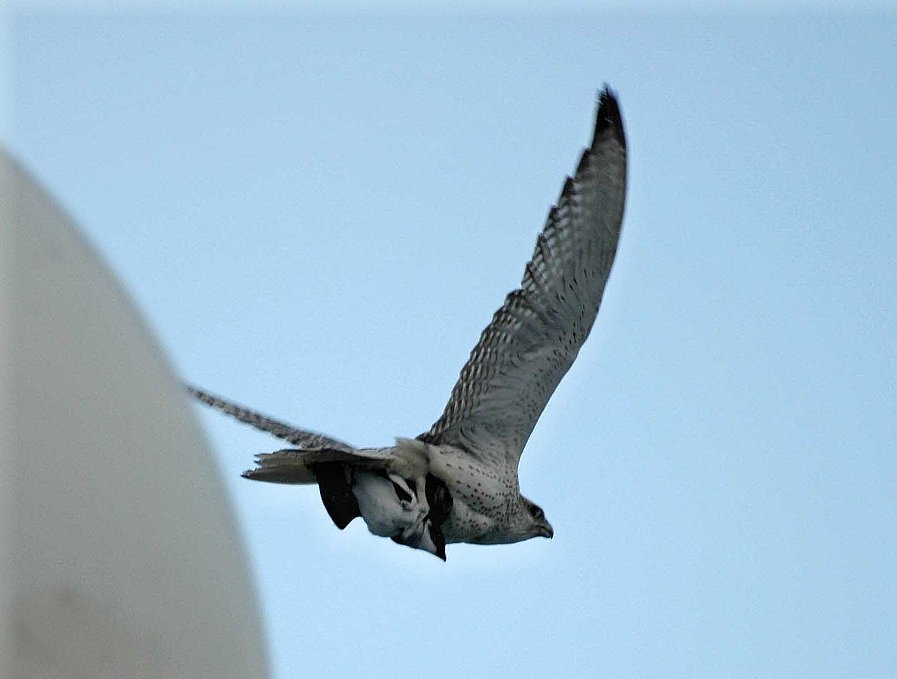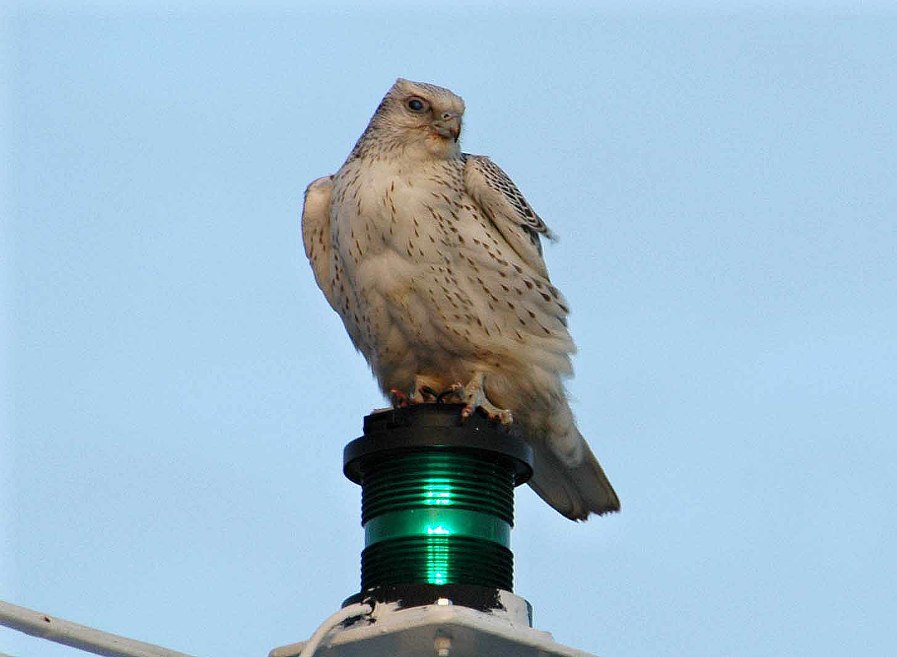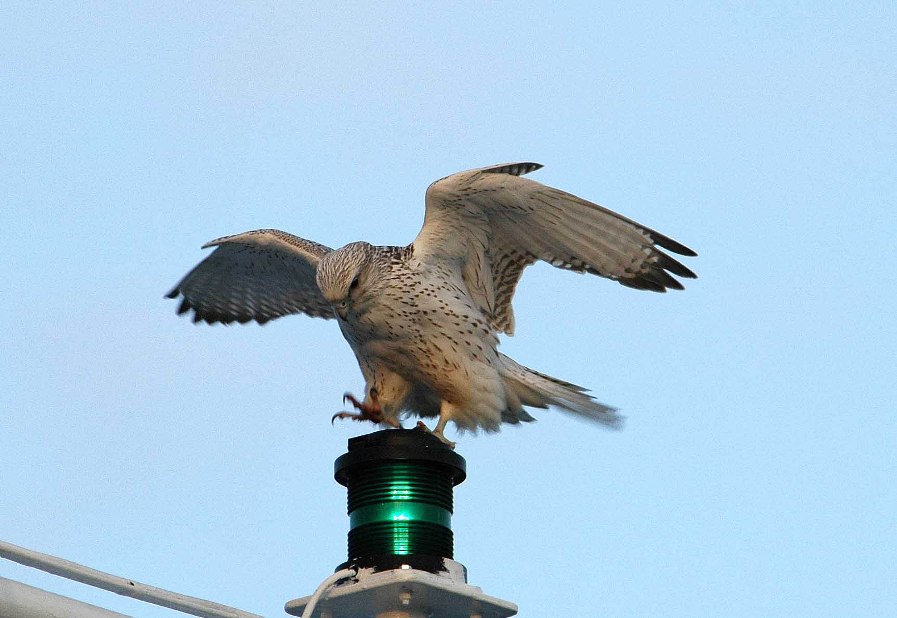 Although this site is supposed to be about birds found on Whalsay I couldn't resist adding this one! On watch aboard m v Zephyr west of Shetland, the relative calm was shattered by a large bird of prey bombing past the bow. By the time I had got out the boats binoculars I had lost it in the melee of gulls. After a couple of minutes frantic searching, a first winter Gyrfalcon appeared carrying an unfortunate Little Auk and landed high on the stern gantry to eat its lunch. Two of the crew had good cameras aboard and the top photo shows the bird being accidently flushed, heading over to our sister ship m v Antares a few hundred metres off the port side. It finished its meal in peace and then surprisingly decided to come back over to us, (pics 2 and 3 show it landing in full view on the foremast) where it posed for more photos before departing to the south an hour or so later. I have seen rarer birds but few have caused so much excitement!
Pallid Swift
3RD JULY 2005
Spring 2005 was acceptable; I had managed to see two new birds – Dotterel (22/5) and Red Rumped Swallow (4/6) both found by BM and both at Clate. The downside was missing a Marsh Harrier (21/5) a bird I still need today.
On the evening of 3/7 me, Angela, bairns and dog went for a walk at Skaw Taing with the intention of checking on 3 Arctic Tern nests on a small beach at the North end of the golf course. We pulled up at 7pm outside the golf clubhouse and I could immediately see 2 swallow and 2 swifts hawking for insects over the North Loch. On checking the swifts one was obviously a common but the other when viewed as it swooped low with the hills in the background appeared almost "Sand martin" brown. It had a small blackish mark, pale forehead and contrastingly darker outer primaries. The throat patch was larger than the commons but slightly worryingly was a pale greyish brown and not pure white as the field guide I was now armed with seemed to suggest.
It then flew directly overhead showing the pale buff tipped under body feathers giving a pronounced scalloped effect. When viewed together with the Common it was noticeably a slightly broader heavier looking bird with marginally broader wings which were blunter at the wing tips. The birds would sometimes disappear for short periods behind the clubhouse. But when they came back into view even against the light, the Pallid could be distinguished by its slightly bigger size.
I left my family to go tern hunting without me and phoned BM, JD and a few other interested islanders. Both Swifts remained over the loch until 20:45pm when both headed south. At 21:05pm the Pallid reappeared by itself back over the loch allowing six mainland birders time to get there and see it. At 21:30 with the light starting to fade it again headed off south, this time never to be seen again.
It's a pity nobody was present with a camera in the early part of the evening when it was flying low overhead in bright sunlight. Another first for Whalsay and most unexpected in a month I have never had a tick in as far as I can remember.
PINE BUNTING
4TH- 5TH NOVEMBER 2OO5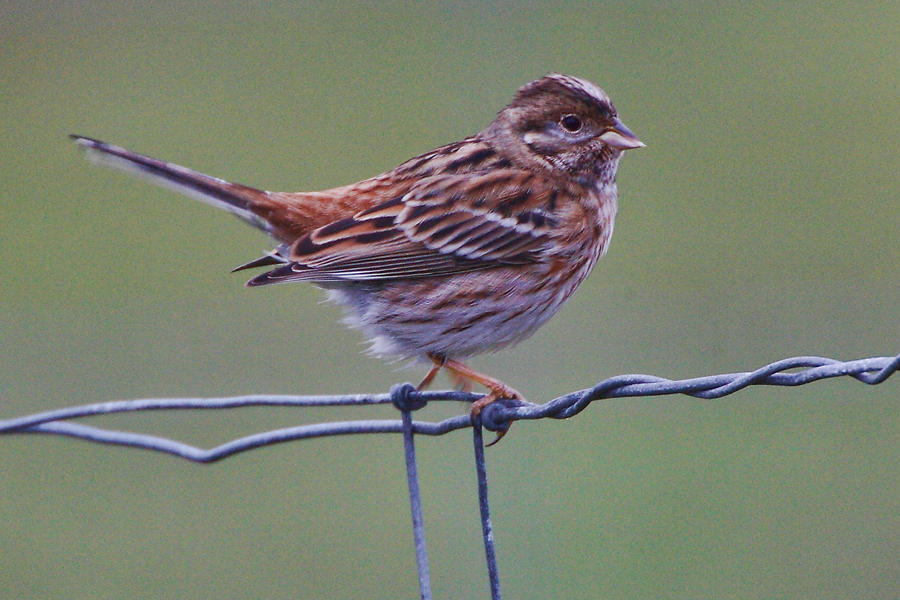 photo by Hugh Harrop/ Shetland Wildlife
Early November 2005 was surprisingly good, an eruption of Waxwings and Bullfinches plus the usual late autumn stragglers were keeping us interested. The morning of 4/11 saw me and Angela out dog walking. After getting about 100 yards I had stopped for the fourth time and was scanning the sky hearing trilling Waxwings flying overhead. Angela was getting frustrated and said words to the effect of "why don't you just go off bird watching". I took up her kind offer and set off north in our car.
As I was passing Challister at about 10:30am a Finch/Bunting appeared on a roadside fence. I pulled in, and completely misjudging the size was expecting to be viewing a Twite. Imagine my shock on raising my binoculars and could see a long streaky brown Bunting with a rufous rump, a white patch below the eye and reaching the rear of its ear-coverts and a white "Mohican" crown-stripe! A first winter male Pine Bunting, HELP!!
My first call was to BM who was on holiday in Wales, making him happy with a phone call (not). JD could not be raised so various messages were left urging him to get to Challister. I put the word out via Dennis Coutts in Lerwick and a squad of birders appeared off the 12:30 ferry. JD eventually called in a panic after stumbling on one of my voice calls. Oh the joys of gardening and leaving your mobile indoors!
The bird was obviously tired after a long journey and good views were had by all. It was still present 5/11 and a few more birders connected in the morning. It was by now regaining its strength and was more flighty. It was last seen at about 1pm. Another Whalsay first.
P
addyfield Warbler
12th June 2006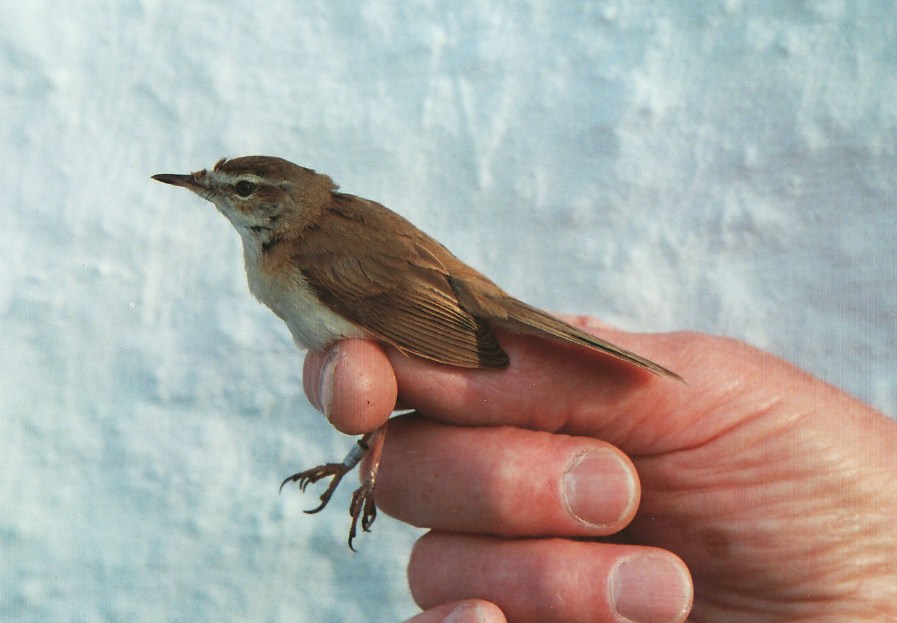 photo Jon Dunn
Spring 2006 was fairly quiet. I had managed to catch up with Common Nightingale (9-10/5) and had a pair of cage jumping Bar Headed Geese a few days later but little else was to be seen. Late May and early June was dead as the winds refused to go anywhere near SE.
By 12th June the wind at last was swinging from S to SE so, at 6pm I headed for Skaw hoping for a late surprise possibly a Marsh Warbler. All seemed quiet in the plantation until I flushed a small pale brownish Warbler with a warmer rusty rump and a long well defined Supercilium. It was showing reasonably well + I quickly decided it had to be a Paddyfield Warbler so I called BM and JD. The net went up and the bird was caught quite quickly. Thankfully I was right, a Paddyfield Warbler and a first for the island.
Blyth`s Reed Warbler
3rd June 2007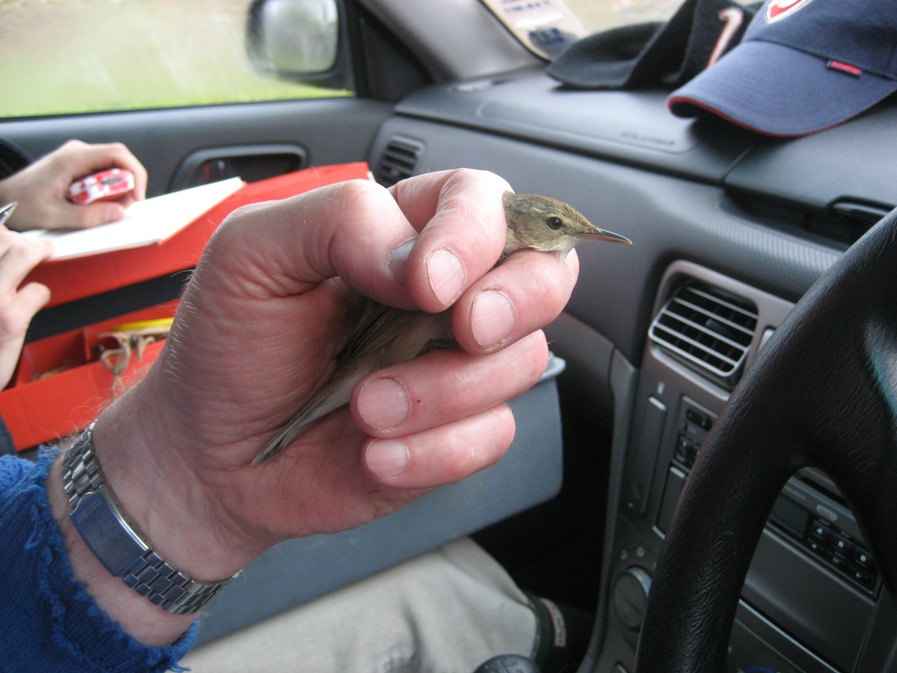 Marshall and Dunn in description mode.
2007 started with JD finding a male King Eider off Symbister. Typically the Irvine family were in Edinburgh for the festive season so I missed out. Next to turn up was an adult Spoonbill at Isbister on the 21st of February as we were sailing south through the Minch on a fishing trip. Next up was a White Billed Diver on 16th March, again I was fishing and the bird sadly died one day before I got home. It had even been in the voe below our house!
My luck changed at last on 3rd of June when BM rang with news of a Blyth`s Reed Warbler in the Skaw plantation. It was netted fairly quickly then ringed and released back into the plantation. It was last seen on the 8th of June. (first for Whalsay)
Arctic Warbler

9th October 2007

Arctic Warbler photo by Brian Marshall

Citrine Wagtail photo by Peter Stronach

Hornemans Arctic Redpoll photo by Peter Stronach

Blyth's Reed Warbler photo by Peter Stronach

Regular autumn birders to Whalsay Peter Stronach and Andy Seth always find good birds. On their arrival on the first of October they turned up our 2nd Blyth`s Reed Warbler at Whitefield despite an apparent lack of migrants anywhere. On 3/10 they had a Citrine Wagtail at Symbister followed by a Hornemans Arctic Redpoll at Skaw 4/10. The 5th saw them turn up a strange lark on the golf course, ¾ the size of Skylark, pale, shorter winged but basically still a Skylark? As far as I know this has still not been resolved despite Peter getting good pics and plenty of Shetland birders seeing it. There was plenty of collective head scratching going on! I think some sort of small eastern race Skylark was favoured but what would I know.

The 9th of October saw me heading to Symbister looking for a Barred Warbler (this species was to evade me for 2007, probably the first time I have missed it for the year) I suddenly spotted a Phyllosc` with wing-bars flying ahead of me, lob over a wall and into a garden. With multiple Yellow Broweds around I plodded casually towards it expecting another one for the day total. Never having self found an Arctic Warbler before I was quite excited when it turned out to be this species. BM was called and he arrived with two "sooth" birders. It allowed quite close approach and Brian got some good photos
photos Brian Marshall

A good start to the 2008 migration season came with BM finding and trapping a male firecrest in the Skaw plantation on 30th March. This was the earliest Shetland record by weeks! 2 and a half weeks of westerly winds in May wasn't much fun but some easterlies at the month's end at last produced some migrants.

On 28/5 Marsh and Icterine Warblers and 4 Red Backed Shrikes appeared. The 29th was better still. I was talking to BM when Angela phoned; Hazel Simpson had a Nightjar in her garden at Symbister. We arrived and were directed to a low dry stone wall where, true to form it sat motionless the whole day. BM, Jason Atkinson and later JD all got good photos whereas I got a small brown dot in the distance. I think it was around this time I realised a decent camera might be in order!
Yellow Breasted Bunting
13th September 2008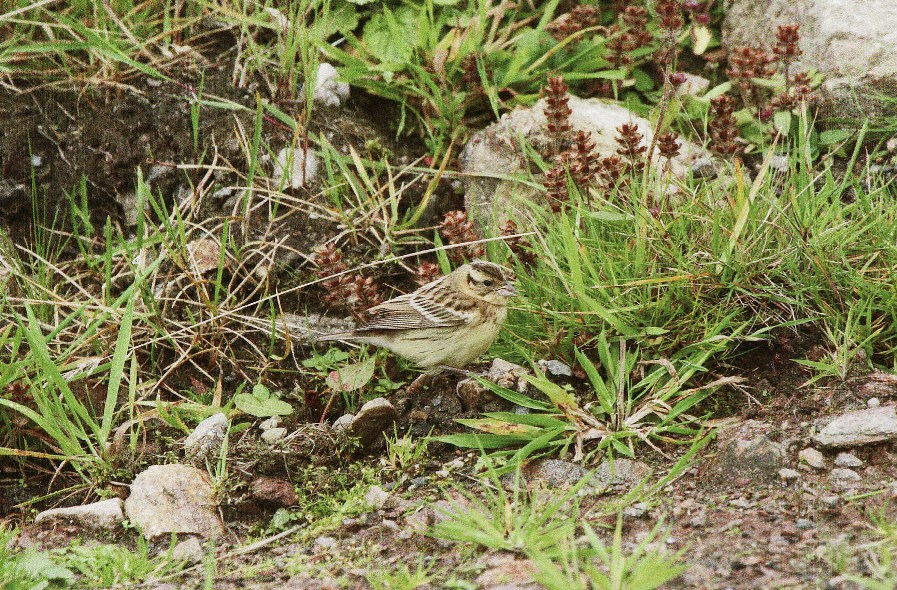 photo Brian Marshall
Autumn 08 was really quite good. BM had found and trapped our 2nd Paddyfield Warbler in the plantation 17/8/09 and there was a constant stream of migrants thereafter.
13/9 saw myself and JD "doing the isle" and all was going well, Red Breasted Flycatcher at Brough, Bluethroat at Symbister, Wrynecks at Brough and Skaw, Grasshopper Warbler at Isbister with loads of common migrants thrown in. Suddenly my mobile rang, Corncrake in a Vatshoull garden. Despite a huge British list Jon somehow still needed this species so was quite stressed by the time we got there, BM and Jason Atkinson were called and Angela and Rory also turned up for a look. All had good views as it ran amongst the trees eventually flushing and showing off its coppery wings. JA then mentioned a Bunting he'd flushed in a weedy patch above the Brough quarry so myself, JA, JD and Rory went back for a look. On our arrival a bird flushed, I got a flash of yellowish underparts and double white wing bars. Just a glimpse but surely a Yellow Breasted Bunting. Although we were 95% sure another look was needed to secure the other 5%. Half an hour passed and no sign, all I managed was to rip the arse out of my expensive waterproof breeks on a barbed wire fence. Frustration. Back we went to the quarry and there it was wondering what all the fuss was about. A Yellow Breasted Bunting sure enough. It was still present the next morning and BM and JA both got some good photos.
Citrine Wagtail

17th September 2008

Good birds kept coming in September 08 with a Short Toed Lark and Great Spotted Woodpecker at Skaw on 14/9. Just after 1pm on the 17th my mobile rang and at first I thought I was being subjected to a heavy breather! but was relieved to find it was only JD. A Citrine Wagtail was giving him the run-around as it lobbed around the moorland above Vevoe and he had to run to keep it in sight.

I reached the spot at a perfect time, the bird had settled on a small pool of water in a roadside ditch and a knackered looking Jon was taking photos. I watched it at close range before it flew off calling towards Vatshoull never to be seen again

photo Jon Dunn
Cranes

22nd September 2008

photo Brian Marshall

At 3:30pm on the 22nd of September 2008 I was cooking some delicacy or other. I was preparing to drive Rory and Chloe to a sports event in Lerwick and we were booked on the 4:15 ferry. At this point the phone rang, it was Kathleen Jamieson and she was watching three Common Cranes wandering around the Vatshoull loch. Although KJ isn't a birder she has phoned about birds before and seems to have an eye for something unusual. I knew she would be right.

Although Cranes are now annual in Shetland some years with multiple records, somehow Whalsay had never had one! I picked up the bairns from school got their food on the table then checked my watch. I now had three choices:

Forget the Cranes there's bound to be others.

Forget the bairns sporting event.

Rush to Vatshoull like a lunatic, see the birds then rush back and head to the ferry.

I quickly decided on option 3, arrived in a cloud of dust watched the birds for all of 30 seconds and beat it back again. We caught the ferry with time to spare so all ended well. This sad "twitchy" behaviour did however leave a bad taste and I will endeavour to enjoy our next Cranes properly!
Hume's Warbler
4th - 7th November 2008
On the 4th November JD called me on my mobile. I was on the boat in Norway landing a catch of mackerel and his news was quite gripping. He had identified a Hume's Warbler found by Cath Simpson in her garden at Symbister. I knew we wouldn't be home till the 7th could the bird possibly hang on another three days?
I went along on the morning of the 7th and couldn't find it, on widening my search a shout from Cath called me back and there it was. A big relief, on what turned out to be its last day. (First for Whalsay)
Dotterels
17th May 2009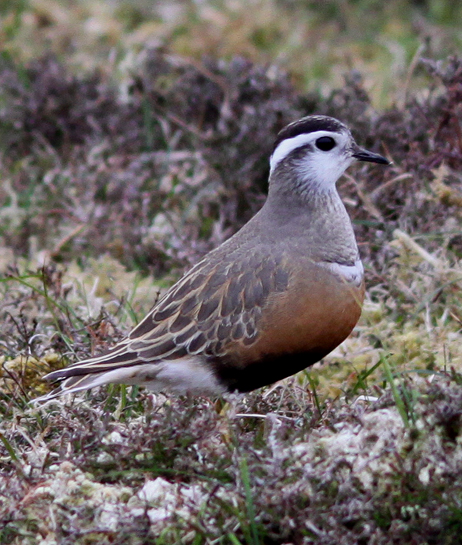 photo Jon Dunn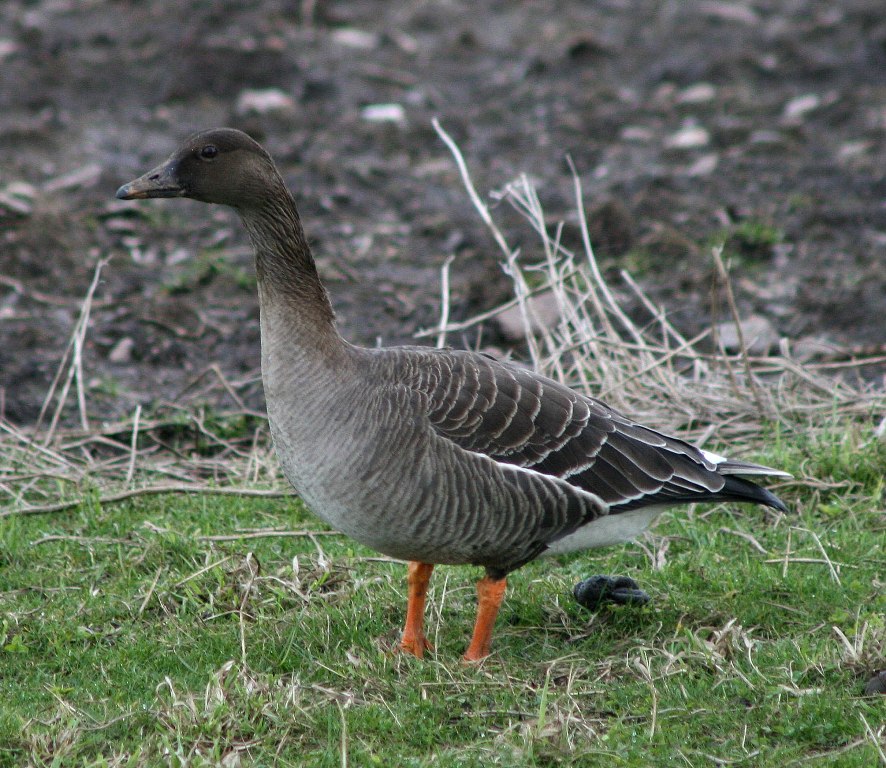 Tundra Bean Goose photo Jon Dunn
Spring 09 was a good one. BM found a Tundra Bean Goose at the Houb 22/2. April was also better than usual with 4 Stock Doves, 3 Goldfinches and multiple Hawfinches. In May BM found a Rustic Bunting on the 15th at Brough its reappearance the next morning allowed me to see it, my first spring sighting.
On 17/5 JD phoned to say he'd flushed a Dipper from a ditch on the golf course. It had headed south along the coast. Me and Rory went for a look, going down to the shore below the Heligoland trap. Heading north we met Jon who decided to keep going south as far as Vevoe. We found a Cuckoo then an Icterine Warbler but alas no Dipper was ever seen again. Still looking, we decided to do a circuit of the north loch. On our way around, four waders flew in which I thought were going to be Golden Plovers until they gave an unfamiliar call. It was four Dotterel, 2 males and 2 females. Wow!
JD was called and had to run from Vevoe. He arrived in a familiar looking car, MINE he'd "borrowed" it on his way north. BM, JA and Angela were also called and some good photos were taken as the birds were running around very close to us. A good day!
Semipalmated Sandpiper

27th July 2009

photos Jason Atkinson

photos Jon Dunn

Pectoral Sandpiper

On 27th of July 2009 Jason Atkinson found a Little Stint at the Houb. It was present for all of 10 minutes so a flurry of photos were taken and uploaded onto his website. Nobody noticed anything wrong until Irish birder Killian Mullarney was "googling" Little Stint images and immediately saw that it was an adult Semipalmated Sandpiper. It was submitted to BBRC as such and recently accepted. A fitting reward for JA for many hours on his Brough patch, if slightly gripping for the rest of us! (first for Whalsay) On 20th August BM found a Pectoral Sandpiper whilst out dog walking at the Houll loch. It was most confiding and everyone got good photos.

Veery and Pechora Pipit

2nd October 2009

all photos by Jon Dunn
| | |
| --- | --- |
| Veery | Pechora Pipit |
| Pechora Pipit | Veery |
| Buff Breasted Sandpiper | On the golf course September 2009 |
| Little Bunting at Sandwick 22nd Oct 2009 | Olive Backed Pipit at Vatshoull 11th Oct 2009 |
An entry in my diary on the 2nd October 09 really says it all "today has just about saved the direst autumn ever". The whole of September had seen SW to NW winds. Highlights were 2 Buff Breasted Sandpipers on the golf course, a Black Throated Diver off Brough and an Arctic Warbler in BM's garden (so it probably could have been worse!!).
On the morning of 2/10 I was bird watching at Skaw. I had almost completed my circuit without seeing a single migrant (again) when a silent Pipit flushed out of a roadside ditch, lobbed over my head and landed on the road 30 yards or so behind me. In flight it looked about Meadow Pipit sized but distinctly short tailed and as it walked along the road it constantly dipped its tail in the manner of a wagtail. It then scuttled into a ditch before leading me on a chase around the area. Bit part views seemed to confirm my suspicion of Pechora Pipit. Strong pinkish bill, obvious double white wing-bars, distinct white mantle braces, boldly streaked breast and flanks with a dark malar patch at the side of the throat and a clean white belly contrasting with a buff washed breast. The last piece of the jigsaw was the call but never having seen Pechora before I wanted to hear it before phoning out the news. Unfortunately it refused to talk to me and I was getting to the point of putting it out anyway when my mobile rang....
Peter Stronach and Andy Seth had found a VEERY!!!! in a Symbister garden. Obviously the Pipit was put on hold for a while. I phoned JD who was on tour guide duty on mainland Shetland and left messages for BM and JA who were en route to Foula to twitch ..... well a Veery actually (you couldn't make it up!).
I then set off for Symbister and a stressful 20 minutes or so were endured before we managed to refind it. Once found it gave splendid views before returning to its favoured small garden where it tended to skulk for long periods. With patience however it would come out on the wall for the growing mass of twitchers.
On returning to Skaw with PS and AS the Pipit was easily refound and even called (the only time as far as I know that it did so throughout its stay) a double buzzing "zep zep". The Veery stayed in its garden until last seen 5/10 the Pechora was seen till 7/10.